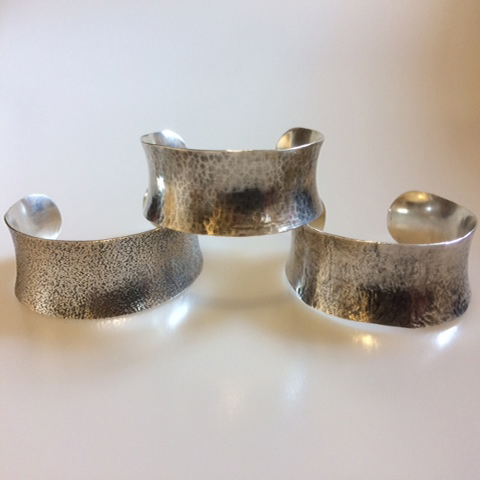 TEXTURED CUFFS + BANGLES
Monday 14 October
10.00 - 4.00
Tutor: Grant Forsyth
Using a variety of techniques we will create cuffs and torc style bangles in one day. We start with experimenting with a range of texturing using a rolling mill, hammers, fabrics and your imagination. We will create a number of test pieces and a copper master before embarking on using silver as your final piece.
There will also be opportunity to try simple fold forming and patination to add to your pieces. There will not be any soldering or complicated techniques, so this one day class is suitable for beginners as well and those more experienced wishing to enjoy a day of experimenting and increasing their knowledge of these simple but affective pieces. Please bring with you anything you might feel would imprint/texture a piece of metal, fabrics, mesh, papers, plastics etc. Although I will supply materials for this.
Includes - All copper you will require. (Silver may be purchased from the tutor.) Tea, coffee and biscuits.
Terms - Fee is payable on booking. You may transfer your place on a workshop to another person at any time.
Level: All
Number of students: 10